Ready for some hot-seat multiplayer action? Blow up some lava reservoirs and let your friends boil, or just take them out with carefully timed grenades!
Local Multiplayer
Join your friends and foes in a fast paced 2d hot-seat local multiplayer action game!
DRM free!
No Adware. No Spyware. No hidden Fees.
Home Made
This game is made by two people, with love and dedication!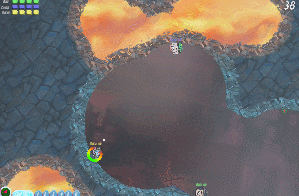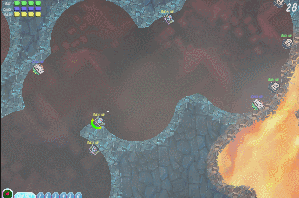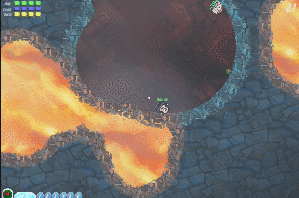 DOWNLOAD THE GAME:
Your support would be greatly appreciated!

or download via itch.io
ABOUT THE GAME:
Round Bunch Versus is a HOT-SEAT LOCAL MULTIPLAYER game for up to FOUR PLAYERS. Each player controls a team of four soft contenders. Roll and jump to collect new weapons or upgrades and use them to eliminate your foes.
Fights take place in an UNDERGROUND LAVA CAVE. Your grenades may damage lava reservoirs, resulting in a FLOOD OF HOT MAGMA. Use it to ROAST YOUR ENEMIES!
Tightly adjusted softbody physics, real-time particle fluids and DESTRUCTIBLE VECTOR TERRAIN are the tools that let you cause some serious havoc!
FEATURES:
Up to four human or CPU players
Destructible terrain
Gravity shifting world rotate
Smooth particle fluids
Fully physics-based movement
Sticky softbodies
Explosions (!)
INSTALLATION:
Click Download Free Alpha (Win) to download the game to your Windows computer
Choose a location on your hardrive to save round_bunch_versus_alpha_a6.zip
Open the Explorer and browse the location to which you saved the download
Right-click round_bunch_versus_alpha_a6.zip and choose 'Extract all...'
The extracted folder contains 'round_bunch_versus.exe'. Double click it to start the game.